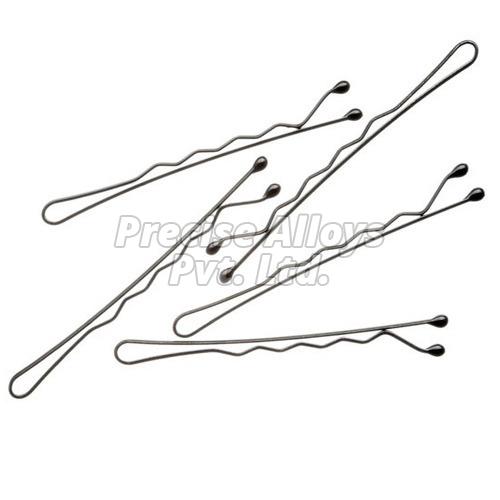 Bobby Pins Manufacturers, Maharashtra, offer top quality bobby pins for various hairstyle needs. The product is packed in the specified quantity and delivered to the customer promptly. The material used is of superior quality Hessain cloth and PP/HDPE material. The manufacturers are ISO 9001:2008 certified. They cater to the markets of Hungary, Dubai, Oman and Mauritius.
What is a bobby pin?
It is a metallic or a plastic hairpin with a kirby grip that is employed in holding the hair in a coiffure. It is a hair pin that is smaller and double-pronged. It clips loose hair with open prongs and fixes the hair in place with flexible prongs. They are particularly used in bobbed hairstyles.
Why is it called a bobby pin?
The bobby pin became popular with bobbed hair and the popularity of the bob cut. The pins came to be used in 1899 and were invented by Luis Marcus in Paris. They were utilized to keep the hair in place in the bobbed looks.
Uses of a bobby pin
Primary use is to keep the hair in its place.
They are used in bobbed hairstyle.
They are used in hair buns
They are also used in up-dos and some other hair looks with sleek appearance of hair.
Used in holding bandannas, headbands and yarmulkes in place.
Can be utilized for decorative purposes in hair.
Bobby Pins Manufacturers offer bobby pins made from carbon steel. The pins come in black and have a length of 3 inches. They are polished to attain a long-lasting shine. They can be obtained in a 500kg quantity from the manufacturers.
Types of Bobby pins
Hair pins- They are U-shaped and ideal for buns and twists in up-dos kind of hairstyle. Messy hair can be fixed with these hair pins stocked in your bag.
Jumbo pins- They are large pins with an ultra long mane. They hold unruly and thick hair in place. They are used in buns and to get a tight grip on the hair. They can hold the look for a longer time compared to other kinds of bobby pins.
Regular pins- They are the most common kinds and can be employed on all kinds of hair; from thin to sleek to thick. They are used for holding and decorative purposes. Maintain your bangs and fringes in place with these pins. Strays from buns also can be managed with them. Change your hairstyle whenever and wherever with them.
Mini pins- these are rather appropriate for thin and short hair types. They sometimes come with padding to avoid slipping off.
The leading manufacturers of these pins are well-reputed names in and around Maharastra with their consistent maintenance of the quality of the product and keeping themselves up-to-date in the current market trends. They maintain a good team of professionals who ensure the product is of the highest quality right from procurement to delivery. The price is competitive and payments can be done conveniently.