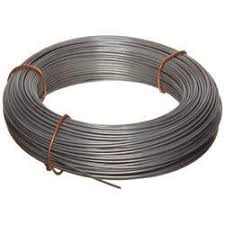 Bailing wire is also known as bale wire or soft wire It is a type of wire that is used in agricultural and industrial sectors for mending fences, or binding of bales of straw, etc. It is also used to tie together aluminium, paper, and other materials. It is very common in the recycling industry. The wire is also used for repairing basic materials.
Initially, they were used in mechanical hay bales and attached behind tractor. However, the use increased by late 1980s. In these cases, the wire was cut and put into bundles. For storage, they used barrels and metal drums. Also, the farmers used the soft wire for repairing temporarily. These wires were useful in making fences; head stalls and even make the horse leather harnesses.
There Are Different Types Of Bailing Wires:
• Single-Loop – It is simple to bend and be used for tying. It can be used for a lot of commodities and products. These are available with different sizes and specifications.
• Quick link – These wires are little thick and can hold on to heavy materials. They are cut in different lengths as per the requirements. They are widely used for heavy-duty materials.
Where to Buy Bailing Wires?
Bailing wires are manufactured and exported by many industrial component manufacturers. Many of these companies also supply and export their products online. They manufacture bailing wires in different thickness and sizes. They sell their products for retail and industrial use. One can order in bulk by visiting their websites and contacting them directly.
While searching for bailing wire exporters in India, it is important to understand what the company is and what kind of products they export. Companies that offer a quality product should be chosen. The products are tried and tested before they are distributed for sale. They also ensure smart and safe packaging of the products they manufacture.
This is important to ensure the products are not damaged at the time of dispatch. The companies also ensure that the bailing wire is shock sustainable. The bailing wire exporters in India usually give all the details about their companies and the information about their team.
The bailing wire is polished so that it does not rust. It is mainly produced on a massive scale as the demand of the wire is very high due to the durability of the bailing wire. Some companies also offer galvanized bailing wire, bailing wire for wastepaper, stainless steel bailing wire, and black annealed bailing wire.
Each bailing wire is meant for different purposes. However, all of them are resistant to stain or rust. Some websites give discounts if the quantity is ordered in bulk. They also provide a price comparison of all types of bailing wire of the same quantity. The suppliers in India distribute their product around the country.
You can get in touch with the bailing wire exporters in India by visiting these websites or by directly contacting the them over phone, email or submitting the form in the websites. All of them cater to industrial and agricultural use.