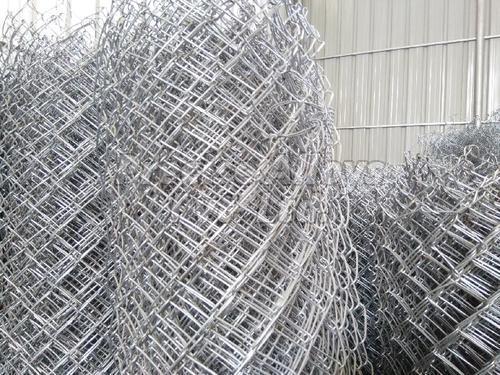 As per the chain link wire mesh exporter, the practice of chain link fencing has become very popular. These days, nearly all residential bungalows, apartment houses, farming areas, sports grounds and park, parking spaces, and even the warehouses are fenced using good quality wire mesh. These fences are ideally made up of galvanized steel or PVC coated wire. In certain cases, stainless steel wires are also used.
These wires are usually interwoven into a mesh-like structure which is known as the fabric of the chain link wire fence. These woven meshes are secured strongly around the secured area using posts. These posts are usually made up of steel, cement or pipe. The parts are entrenched into the ground deeply providing utmost support to the mesh.

Size of the mesh:
There is a variety of mesh wires available in the market. The space and size of the wire fabric depend entirely on the choice of the buyer. With smaller space between the shapes, the steel present in the mean in teases. Usually, the standard sizes of these chain link meshes are available in1" x 1" | 1½" x1 ½" | 2" x 2" | 2 ¼" x 2 ¼" | 2 ½" x 2 ½" | 2 ¾" 'x 2 ¾" | 3" x 3". The smaller sizes of meshes are mostly used in poultry farms. However, as a buyer, you need to search for the right kind of chain link wire mesh according to your purpose.

Material of the mesh
The wire meshes supplied Indian Chain Link Wire Mesh Exporter Maharashtra is usually available in two types of coating material, namely, zinc coating and PVC coating.
• Coated With Zinc:
This type of wire mesh usually rages between 20 to 290 GSM, per square meters. The coating with zinc is done using two methods, electro-galvanized method and the hot-dipped galvanized method. These chain link wire meshes do not easily get affected by rust. The electro-galvanized fencing is not usually used for fencing purpose.
• PVC Coating:
This type of wire mesh usually ranges between 1-3mm. This type of coated mesh has a very smooth finish and is resistant to corrosion. It is long lasting and quite tough.

Benefits of using the chain link wire as fence
The chain link wire mesh is a very cheap and pocket-friendly fencing option. It requires a very low maintenance cost and compared to the brick wall, these fences are highly functional. It has become a great option for both residential and commercial properties. Installation of wire mesh as fence requires very less effort and cost making it an awesome solution for a kind of settings. Due to all these properties, a number of chain link wire mesh exporter in India have come up.
The wire mesh fence is also used for making partitions and secure temporary boundary for construction areas. Homeowners are taking up the option of using chain link fencing as it is the least expensive option available in the market. Moreover, for covering up a large expanse, it is better to use chain link mesh as it can help you set up temporary and permanent boundaries.
This entry was posted on October, 30, 2021 at 17 : 36 pm and is filed under Chain Link Wire Mesh. You can follow any responses to this entry through the RSS 2.0 feed. You can leave a response from your own site.